Pro Kids Run! August 19!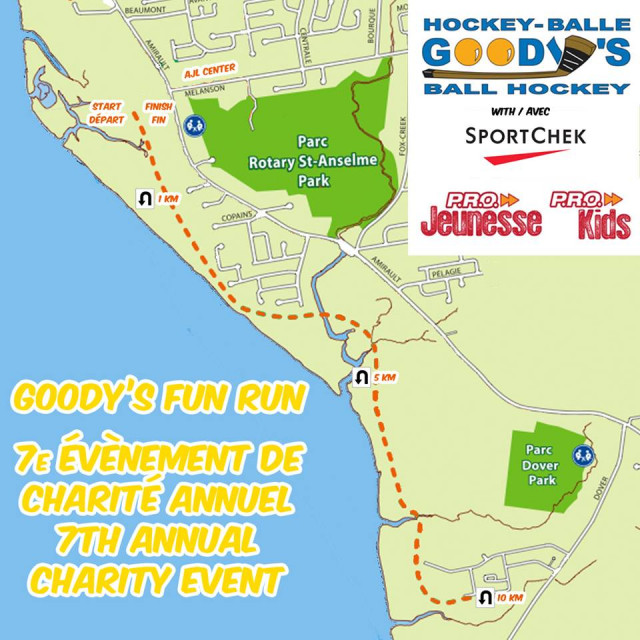 Thursday Aug. 16, 2018
Goody's Ball Hockey is proud to announce that they will be hosting their seventh charity event August 19th!

The event will help raise funds for P.R.O. Kids Dieppe in order to provide a greater chance for kids to succeed, acquire leadership skills and enrich their lives. P.R.O. Kids is a community program that helps Dieppe and Memramcook children and youth aged 2-18 years from families experiencing financial difficulties to participate in the community, cultural and sports activities. More information can be found at:
https://www.dieppe.ca/en/vivreadieppe/projeunesse.aspx

Participants will get to choose between a 1km, 5km or 10km run/walk. The event will take place on the trail in front of 1014 Amirault St, Dieppe, NB E1A 1C9.

Event Details
Registration Fee: $20/adult & free for kids
Registration: 9-9:30am
Group Photo: 9:45am
Run Start Time: 10:00am
Did you like this article? Share it!
x
Term of use Shark Media & Sport
The content of this site is private and purely informative. The rights of a visitor to this site cannot, therefore, be derived from the content of this website. This website is operated by and was created by SHARK MEDIA & SPORT. The data contained within this website are the intellectual property of and are copyright-protected. The data herein cannot be copied or reproduced without the prior consent of or SHARK MEDIA & SPORT, other than in contexts requiring on-line searches. However, you may print out entire pages of this site for personal use. For further information about the use of this site, please communicate with SHARK MEDIA & SPORT.