Frequently Asked Questions
GENERAL LEAGUE QUESTIONS
What is the youngest age you accept?
We have numerous age groups set up, with the youngest we accept being 4 years old. For the 2019 season, the youngest date of birth we accept is 2015.
When does the season begin?
Our program runs from end of May to August. For the each individual level's schedule, please look at the "Schedule" tab on our website.
Does Goody's Ball Hockey offer its program year-round?
Unfortunately, at this time, we do not offer our program at any other time of the year except May to August.
What is the required equipment?
hockey helmet with full facial protection (full facial protection required for Midget level and under)

hockey gloves

hockey stick

soccer style shin guards

running shoes
How can I know if the t-shirt size I pick will fit me/my son/daughter properly?
At our in-person registrations, we will have sample t-shirts on display so that you can see the best fit.
My son/daughter has never played hockey before. Is this okay?
We accept participants of all skills levels, in all divisions. We are an inclusive organization and welcome everyone, because our number 1 rule is having fun!
My son/daughter wants to play goalie. Do you supply the goalie gear?
Goody's Ball Hockey recommends goalies to bring their own equipment. However, we do have goalie equipment available on a per game basis for all levels (excluding adult levels).
Do you offer divisions specifically for females?
We have a Women's league for those born in 2000+. Younger levels are co-ed.
Do you play with pucks?
No, Goody's Ball Hockey uses an orange ball hockey ball.
Where are the games played?
Depending on the date of a game / the level, this varies. All our games can take place at any of the following four locations:
- Kay Arena: 99 Wynwood Dr, Moncton E1A 2M4
- Arthur-J-Leblanc (AJL) Arena and Olympic Arena: 432 Melanson Rd, Dieppe E1A 1A6
- Memramcook Arena: 450 Centrale Street, Memramcook E4K 3S5
- Dek / Maison des jeunes: 505 Champlain Street, Dieppe E1A 1P2 (next to Mathieu-Martin high school)
Please look at the "Schedule" tab on our website for each level.
When will we hear who is on what team?
We reveal each team composition at game #1.
REGISTRATION QUESTIONS
How do I register?
Option 1: You could register online by clicking HERE.
Option 2: You could register in-person at one of the following upcoming sessions:
| | | |
| --- | --- | --- |
| # | Date & time | Location |
| 1 | March 23, 2019 (10am-2pm) | Rotary Park St-Anselme - 505 rue Melanson, Dieppe |
| 2 | April 13, 2019 (1pm-2pm) | Kay Arena - 99 Wynwood Dr, Moncton |
| 3 | April 18, 2019 (6:30pm-8pm) | Abbey Landry School - 432 rue Centrale, Memramcook |
Registration period is March 23, 2019 - April 30, 2019
I need help with the online registration form! What do I do?
Here are the steps, in order, we recommend you take:
1. Follow the Step by Step Guide to Register Online by clicking HERE
2. Visit us at our in-person registration and we can assist you
3. Call us at 506-962-2293
Woops! I filled out some information incorrectly. How do I fix this?
That's alright! Please tell us what was filled out incorrectly using this form HERE and we will let you know once it's been corrected.
The level I want to register for is full. What do I do now?
When a level is full, we always start a waitlist. Please follow these steps carefully to ensure you are appropriately waitlisted:
First, complete the registration form regularly, filling out all the required information. For the waitlist registration to be accepted WE MUST RECEIVE YOUR PAYMENT FOR THE REGISTRATION FEE (see instructions below on how payment can be made).
Next, please use this form

HERE

to let us know you would like to be placed on the waitlist. You must include the registration number (from step #1), your name, your e-mail + a telephone number we can reach you at, and the level you wish to be waitlisted for, and your method of payment. When a spot becomes available, we will notify you. If a spot will not be available, we will also notify you and give you a full refund for your payment (not including additional charges for payment by credit card) via cheque.
FEE & PAYMENT QUESTIONS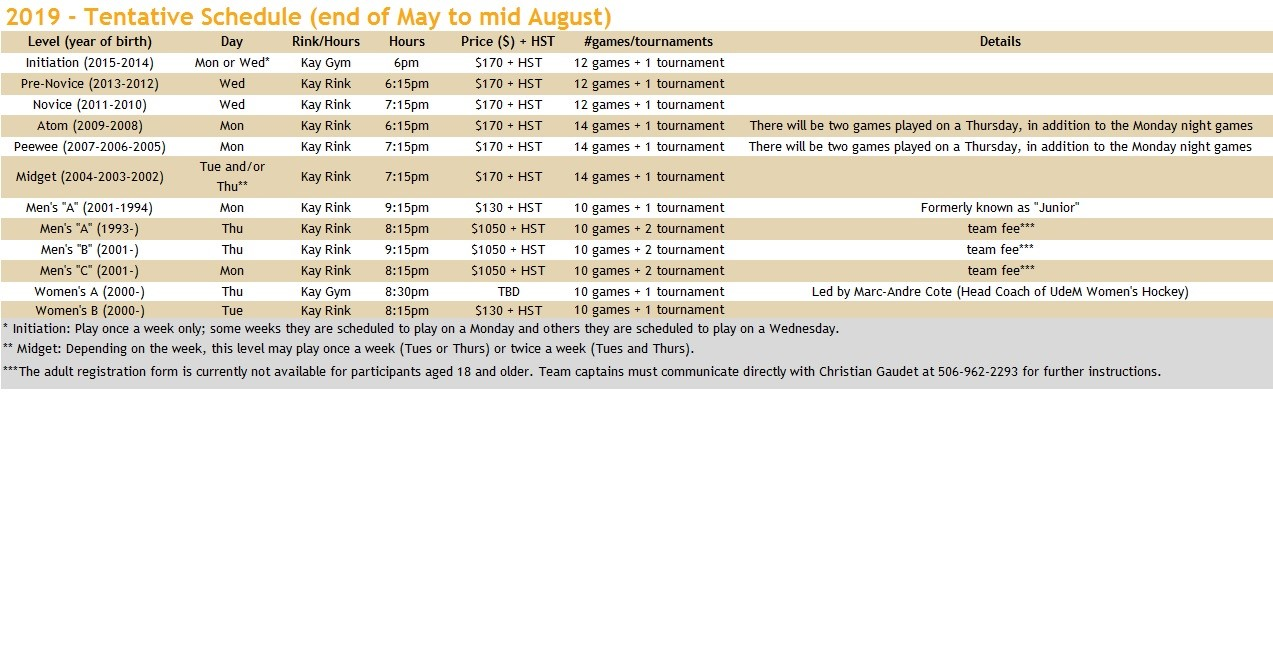 When is payment due?
Payment - paid personally OR through financial aid - is to be received by Goody's Ball Hockey no later than April 30, 2019. Payment received by this date ensures that a spot is reserved for the participant. Submission of the registration form alone does not finalize the registration process.
How do I pay my fee?
Credit card: A link will be sent to your email address after you fill in the online registration form. Please note an administration fee of 4% of your total invoice will be charged by the merchant provider.
Cheque: Please write all cheques to "Goody's Ball Hockey", include the registration confirmation # and participant name, and mail to 1764 Principal Street, Memramcook, NB E4K 2W7 or drop it off at of our in-person registrations.
Cash: Drop off at our in-person registration. Please do not mail cash.
Financial aid: If you are looking for financial aid to cover your registration fee, please visit this page: Financial Aid
Do you offer financial aid?
While we do not offer financial aid ourselves, there are a few programs that could cover the registration fee, depending on your eligibility for coverage - see this page for more: Financial Aid . We can accept payment on your behalf from these organizations, in confidentiality.
Does Goody's Ball Hockey offer any family discounts?
We are pleased to extend to you our family discount if the following criteria is met:
You are registering 2 or more kids from the same immediate family (brothers/sisters, not cousins etc.)

All are registered in any level except Junior, Men's A, Men's B, Men's C and Women's
If you meet the above criteria, the total payment due follows this format:
(Total to be paid regularly X # of eligible participants) - $10 family discount per ADDITIONAL registration
DO NOT REMOVE THE FAMILY DISCOUNT FROM THE PRICE BEFORE HST!
For example: Suppose you register 2 kids who meet the above criteria and they are both in Atom.
Total to be paid regularly for Atom is $195.50 (includes HST). Without the discount, we would expect $391 ($195.50 X 2). With the discount, we would expect: $195.50 X 2 = $391 - $10 family discount = $381
SPONSORSHIP QUESTIONS
I am a business owner and I would like to sponsor. Is this possible?
Yes! Goody's Ball Hockey is proud to have the exposure that it has, with close to 500 participants as well as their involved parents being part of our Goody's Ball Hockey family. We are actively seeking sponsors, and have packages starting at $300 - for more information contact us.
REFUND POLICY
What is Goody's Ball Hockey's refund policy?
Please visit this page for more details: Refund Policy
x
Term of use Shark Media & Sport
The content of this site is private and purely informative. The rights of a visitor to this site cannot, therefore, be derived from the content of this website. This website is operated by and was created by SHARK MEDIA & SPORT. The data contained within this website are the intellectual property of and are copyright-protected. The data herein cannot be copied or reproduced without the prior consent of or SHARK MEDIA & SPORT, other than in contexts requiring on-line searches. However, you may print out entire pages of this site for personal use. For further information about the use of this site, please communicate with SHARK MEDIA & SPORT.